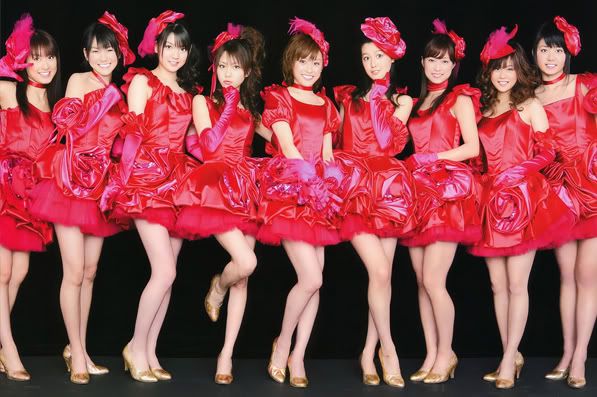 When I logged into MSN yesterday my good friend Silverglade started to bombard me with messages and nudges, normally I would be a little annoyed with such behaviour so early in the morning ... yet I looked at what he was shouting about and he had kindly provided me with a download link for an audio rip of the new Morning Musume concert (Haru -Single Daizenshuu).
As I franticly clicked the link he bombarded me with more messages involving such words as WIN, AWESOME, AMAZING, TOTAL VICTORY, and WIN GET .. so I was kinda anxious and looking forward to what was laying ahead of me.
After about 20 minutes or so the download had finished ... I opened a cold can of Grolsch, sat back and cranked up the speakers ... little did I know my ears were about to be violated by by soundwaves of EPIC WIN GET.
First off, the recording itself is very clean, brilliant quailty, the recorder must of been placed very close to the crowd as you hear alot of wota chanting (and most notably some wota screaming out Sayuuuu! sayuuuu!).
Now ... bearing in mind, I thought their last concert 'Bon Kyu! bomb' was fairly poor to say the least, I was thinking Morning Musume really need to deliver an awesome performance thick and fast ... I was not disappointed.
The Girls perform every single Morning Musume have released (in some shape or form).
Now with every h!p concert theres normally a few songs I'm not overly keen on, so I tend to skip to a better song ... not with this concert though, EVERY song is performed flawlessly and flows beautifully.
I could go on and continuously babble about the WIN this concert provides, so I'll just keep it brief, the concert opens with 'Resonant Blue' which is actually sounding alot better contrary to my earlier thoughts of it being medicore.
Second up is the epic 'Onna ni Sachi Are' ... this track never fails to get me pumped up and break out the glowsticks, the energy that comes from the crowd is immense and really sets the tone for the oncoming win.
As expected they dont perform every single in it's entirety, some of the songs are cut short and flow into another segment, some are blended together in a glorious medley.
A mix that really stands out when the girls perform 'Chokkan 2 ~Nogashita Sakana wa Ookiizo!' this is a personal favorite of mine so I'm really loving it already, but then it slowly blends into 'sexy boy' which is another favorite of mine, it sounds totally amazing and I would happily sell both my kidneys and lungs to be there.
Now as I said before, this is only an audio rip so we still have a while to wait before we see the actual concert released, this is a 100% must buy, I will be
amongst the first to put my pre-order in when possible, an experience like this is not to be missed, so please click below and get ready for a massive win injection.


Morning Musume Concert 03-22-08 Chiba Day version
Morning Musume Concert 03-22-08 Chiba Night version
Enjoy!!! ^_^