Premature nosebleeds ahoy!
The idea of the girls of Morning Musume having pillow fights and goofing around is glorious idea, so its good to see 'Gravure the television' have commited this concept to dvd, I'm taking a wild guess that this will come with a photobooklet or something, I'm gonna keep my eyes on Yahoo auctions, I'll probably keep pestering Ohta and see if I can get hold of this through his
Hello project! goods shop
.
Considering there is the word 'Gravure' in the title I can confirm that there isnt any skimpy bikinis and slow motion banana eating (much to Junjun's dismay).
I think the two girls that really stand out in this are Jun Jun and Reina, they both have beautiful hair and the colours of their pjamas really suit them, also I might add that Koharu really stands out also (she looks adorable as always).
It would of been good if they all had a battle royale style pillow fight ... but anyway, the video is well worth watching and hopefully it will be easy to pick up for us gaijin wotas.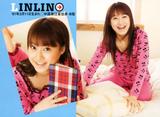 Online Videos by Veoh.com