The lovely Amy over at
Merry go round
has put together a questionnaire for us fans of H!P to fill in, she'll be counting all the answers and producing a poll of some sorts near the end of January (hopefully).
Below are my answers and maybe a little bit of reasoning behind my responses.
If you have yet to answer this on your own blog then maybe you should? its kinda straight forward and Amy has also given us a list of possible answers ... so its not particullary tricky to answer...
Best Group Single
Oh god ... this is kind of tricky, well there were so many singles that I loved from 2008, namely from Berryz kobo and C-ute.
After much serious thought I'm gonna have to choose 'Forever Love' by C-ute, this single not only contained awesome choreography and Maimi in shorts its also got an amazing rhythm and great club beats, if this played in a club I would be first on the dance floor regardless of my alcohol consumption.
Best Soloist Single
Although there hasn't been a massive amount of solo releases this year I think Mano Erina wins hands down, all 3 of her songs are utterly adorable ... so its simply a question of which one ... hmmm ... how about 'Lucky Aura' that song wins hard and fast.

Best Group Album
Simple question, simple answer ... Berryz Kobo 5(FIVE).
This is one of those albums I can stick on from start to finish and enjoy every single track, tracks that I'm totally in love with are 'Happy stand up!' 'Clap!' 'Ah Merry-go-round' the awe inspiring 'BE' and one of most delicious 'REAL LOVE' by Risako Sugaya.


Best Soloist Album
Although there were only a few solo albums out last year its quite clear that Kusumi Koharu's 3rd album 'Kirarin to Fuyu' wins, many fun addicting songs, one of the most stand out tracks on the album is 'Happy Love' hearing her growl and bark like a dog is brilliant, I would love to see her in the recording studio ...
つんく
: ok good, now I need you to bark
Koharu
: lol whut?
つんく
: Bark like a dog! HOWL FOR ME!
Koharu
: RAFF RAFF RAFFFF!!
つんく
: NOW GROWL BITCH!!!
Best PV
With this question there is alot of choice ... so looking through them all my mind rests upon Berryz Kobo 'Yuke Yuke Monkey Dance'.
Not only am I a huge fan of the song the video is quite amazing also ... although its not exactly a stylish or expensive video it contains so much charm and genki spirit, who can resist cute happy girls jumping around in monkey outfits?
Group With Best Overall Releases
Although my loyalty is with Berryz Kobo I cannot deny that C-ute have had a brilliant year for releases...
LALALA Shiawase no Uta:
WIN
Namida no Iro:
WIN
Edo no Temari Uta II:
WIN
FOREVER LOVE:
WIN
Case clsoed.
Best New Group (debuted in 2008)
I'm totally torn between either Milkyway or Shugo Chara Egg ... I guess Milkyway should get my vote though because only Koharu could get me to enjoy bagpipes and shake my magic tamborine at the monitor.

Best New Soloist (debuted in 2008)
Simple! Mano Erina, she's had some great singles this year, lets hope she gets a PV soon eh?
Best Established Group (did not debut in 2008)
Berryz Kobo.
Best Established Soloist (did not debut in 2008)
Kusumi Koharu.

Best Photobook
Yajima Maimi - Sou Sola
Why you might ask? well ...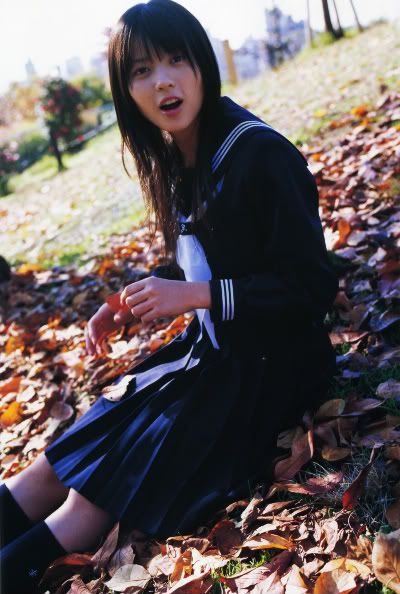 Hottest Idol of 2008
Yajima Maimi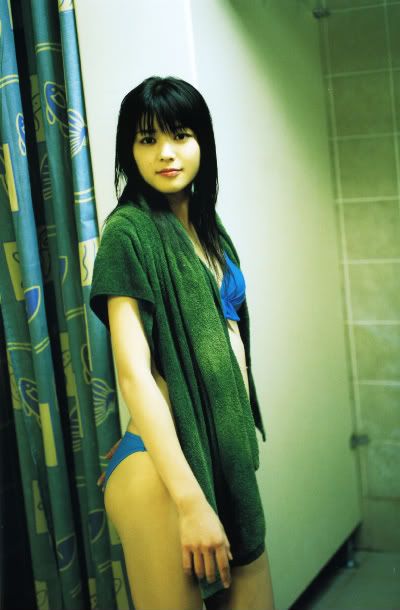 Worst Group Single
Ongaku Gatas - Come together
Worst Soloist Single
Nothing was really bad so I cant answer this question.
Worst PV
Hangry & Angry - Kill Me Kiss Me ... GOD IT SUCKED.
Worst Vocalist of 2008
I enjoyed all the vocalists so I cant answer.
Least Attractive Girl of 2008
Erm ... this is a real unfair question as all the girls have some level of attractiveness ... but what I'm trying to say is that I'm a pussy and I wont answer.