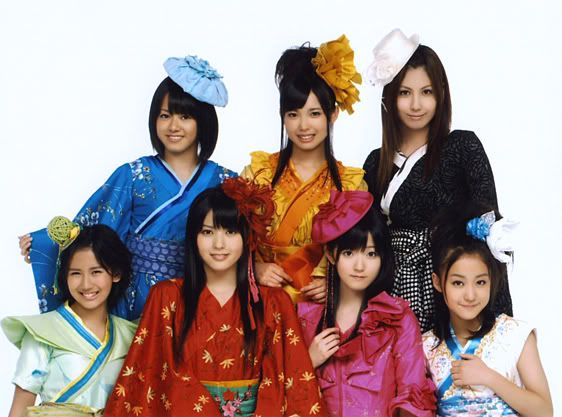 After waking from a 7 hour sleep (which for me is incredibly long) I jumped into my desk chair to see what idol news I missed in the hours I was absent, and to my delight C-ute's latest single 'Edo no temari uta II' is streaming on 'Dohhh UP!'.
I wasn't expecting this to come out for at least another week or so, hello project just seem so busy at the minute, I can bearly keep up.
The two most prominent issues that people have talked about on the forums is that the single is far too short, standing at a mere 2 minutes and 40 seconds as opposed to the standard 5 minutes+ that an average h!p single has, the single is undoubtly short, although I wish the track was a little bit longer I still think that every second of this is pure quality, like most things in life I prefare them to be short and sweet as opposed to drawn out and medicore affair.
The second 'issue' is Maimi's outfit, compared to the other girls Maimi's outfit (which is similar to a traditional chinese robe called a 'Shenyi 深衣) is the biggest and covers the most skin, for fans of Maimi this is a high crime committed by the UFA.
All of the girls outfits are quite beautiful, Airi's outfit (which is like a sexed up cheongsam 旗袍) consists of a very short hem line which would of looked lethal upon Maimi, but Airi also has a lovely pair of legs so its hardly a bad thing.
So to conclude ... yes it sucks that Maimi isn't showing her sexy legs ... but she still looks beautiful, and I'm confident we shall see them in all their glory in the future.
Considering the PV is short its good to see that the UFA have actually given C-ute a decent budget to work with, this isn't the typical cheap green screen job, it looks like someone has actually had the idea of creating a stage set, adorned with cool looking neon lights, and if you look closely enough ... you will spot old h!p posters randomly placed (oh yes you will).
Although the video quality itself is of a low quality I'm sure the backing dancers are infact hello project eggs, I'll have to wait for a dvd version before I can clearly see them.
Just a few more quick observations ... Erika's outfit seems to follow a similar style to her previous 'Namida no Iro' outfit, I'm guessing its the colour scheme.
Saki looks stunning, her mustard yellow clothing look beautiful on her, and her hair looks equally gorgeous.
I cant say I'm overly keen on Kanna's and airi's 'hats' ... to me they seem bowls that have fallen on their heads or ice bags to nurse a bad cold.
Chisato reminds me of a power ranger warrior type with her lime green outfit, I wont lie but i do find her outfit fairly hideous, but considering she shows so much energy and charisma I'll overlook that fact.
Overall the single and PV are both equally awesome, they have a great sound and pace, this track will feature heavily on my playlist no doubt, FLAWLESS VICTORY.
Online Videos by Veoh.com