My first ever experience of Chinami was from the PV of
Piriri to Yukou!
, when she sings the line 'netarinai' at 34 seconds into the video ... I was absolutely transfixed by her, and that still remains to this day.
While many people have a varied list in regards to their favorite idols, I can safely assume that Chinami scores high amongst the majority.
Always genki and beaming with smiles she never fails to lift my spirits, its hard to pin a particular trait of Chinami's that I love most because she covers such a vast range of loveable quirks ...
genki
,
dorky
,
playful
,
funny
... and now that she has just turned 16 some of us can now find her legally and morally permissible to be considered
いろっぽい
, as the main picture above clearly shows she has killer legs.
Now that she is blossoming into a young woman it will be interesting to see if she will become a little more reserved and more ladylike? personally I hope she retains her tomboy charms.
Below are a selection of clips that serve as constant reminders as to why I love her so much: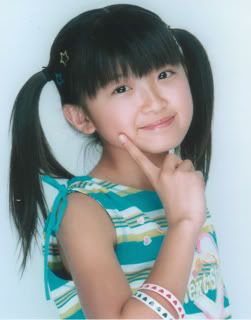 As
this video
shows, Chinami wasnt always the hyper genki idol, she was so timid and shy back in the days of the hello! project kids auditions, she bearly even shows her radiant trademark smile.
But as this
baby photo
shows, she has always had an idol fighting spirit within here.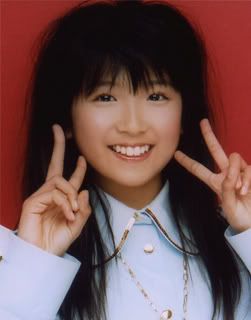 At the begining of Chinimi's idol career she had some pretty funky 80's style hair cut, its really amazing how far she has come within the last 4 years, but its good to take a stroll down memory lane and watch Berryz Kobo's first ever PV 'Anata Nashi de wa Ikite Yukenai'.
Online Videos by Veoh.com
A majority of videos that feature Chinami are always filled with countless adorable quirky moments, at times she has had a tendancy to speak English (or try to).
Who can forget the moment she let slip that she had a girlfriend?
Online Videos by Veoh.com
When 'Dschinghis Khan' came out it was accompanied with about a thousand different versions of the PV, the version that stands miles ahead of the rest is the Chinami version ... 3 minutes and 14 seconds of pure genki Chinami joy!
Online Videos by Veoh.com
While this post mearly touches the tip of the iceberg of her awesomeness, its a start.
I'll end this now with
this picture
of Chinami talking about the berryz VS C-ute concert, the text written on the photo is 'Mina-san ni watashi no egao wo takusan o-todoke shimasu' which basicly translates to 'I will deliver lots and lots of my smiley faces to you all!!' ... is your heart melted yet? I know mine is.