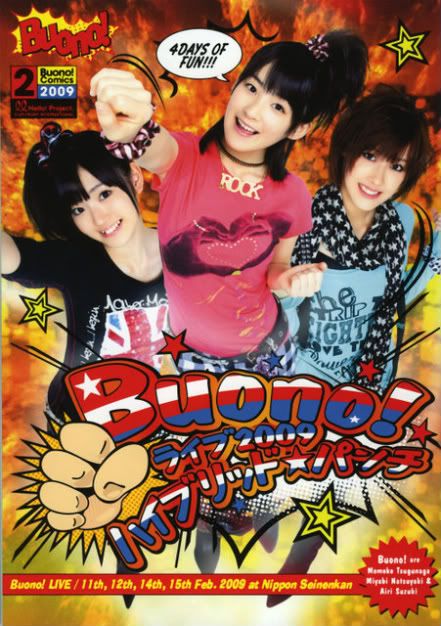 Buono's upcoming concert bizzarrely titled 'Hybrid punch' looks like its gonna be quite awesome, 4 days of fun it would seem.
The
tracklist
seems to consist of nearly all of Buono's 2 albums (not to be mistaken with the currently named album) so how could this concert get any better?
Buono! are just getting bigger and better, since the latest album 'Buono! 2' is an absolutely amazing piece of work which
YesAsia.com
has described them quite favorably:



Buono! were no strangers to the Oricon charts last year. They pleased their fans with no less than four top ten Oricon entries, some of which can be found on their second album.

Buono! 2

features twelve tracks including the hits

Lotta love Lotta love

,

Kiss! Kiss! Kiss!

, and their most recent Oricon #4 hit

Co No Mi Chi

.




Not only do Buono! pack amazing songs (I NEED YOU, Goal) they also score quite highly on the style factor ... I don't think I've seen such beauty and adorability, the stylists needs a huge round of applause:
The Buono! merchandise is also quite awesome... Buono cutlery anyone!?
...kinda want.