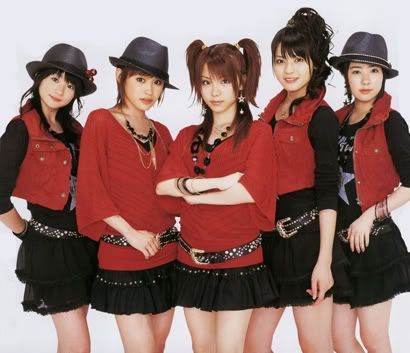 As stated previously I've been holding my thoughts on 'Cinderella Complex' until there was a decent PV available ... and like clock work 'dohhh UP!' has just unleashed it.
And I choose use the word 'unleash' for a reason because while watching it you get blasted by servere amounts of WIN and slick sexy beats.
Originally when I heard the single a few days back it made me think about
Salt5 get up rapper!
, probably because they both share a great line up and swift funky beats (minus the banana chip chip chip).
With such a quality line up of idols it would be near impossible to make this unit fail, the mixture of girls in this group is interesting ... 2 leaders, 1 captain, a yankee, and an egg thrown in, if this were a cake it would be a delicious one.
With there being such a potent line up of vocal abilities I was really hoping for equal line distribtion, yet it seems that Aichan and Reina take vocal lead .. it isn't really that supprising considering they are the strongest (probably within the whole of h!p).
A voice that does strike me though is
Maeda Yuuka
, not only does she have a really genki addictive voice, she also has a pair of the most amazingly beautiful Über Kawaii
eyes
.
The video follows with some slick editing and some good shots with the camera rotating around the girls, there is also some cool shots of the girls silhouettes behind a blinding spot light.
The video fits very well with the music and never has any boring parts, its non-stop high caliber WIN fest from start to finish.
The girls that stand out mostly for me is Reina (maybe because she's featured the most) and Maeda Yuuka ... I really hope we see more of her in the future.
Unfortunatly Maimi wasnt wearing hotpants ... BUT she was wearing a lovely short skirt so I'll let it slide this once.
Is there any bad points about the video? quite frankly NO, unless you count unequal line distribution which seems to becoming the norm nowdays with h!p videos.
I'll definitely be ordering a copy of this single later tonight.
Below is the video, what do you think?
Online Videos by Veoh.com