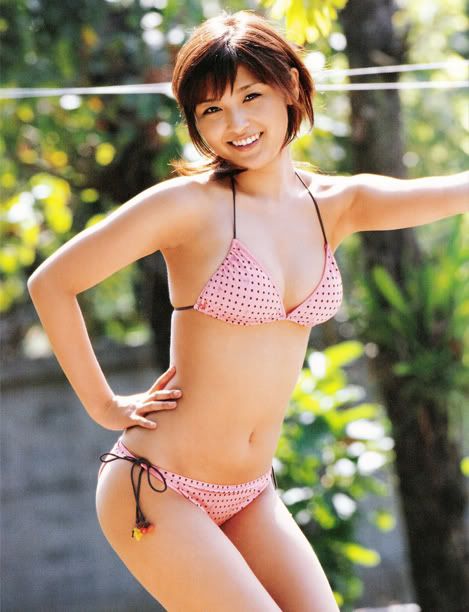 With V-u-den now pretty much dead and buried, its quite a curiosity as to what Rika Ishikawa will be doing with herself next.
Undoubtly she will be flaunting her fruits in one way or another, she's recently just been hired by Fanta to
'promote'
their soft drink, which basicly involves dressing Rika in skimpy orange hot pants and making her bounce around the stage shaking the can up and down vigoursly (yes I'm thinking the same thoughts also).
At the moment there is no clue at all which direction her idol career will take, either Tsunku and the UFA will push her to become a full solo artist or she will slowly fade into obscurity and star in the sleazy world of
JAV
... either way its win win.
It's quite clear that Rika still is a hot commodity in regards to the top brass at UFA, so its good to see them pumping out more lovely photobooks, her eighth solo photobook which has just been released is entitled 'Kazahana' and is a lovely yet dare I say ... predictable photobook,
dont get me wrong ... I love looking at pretty Japanese girls in bikinis (who doesnt?) ... but theres nothing in this PB that I havent seen before ... its just the usual run around acting dorky ... laying on the floor staring wantingly into the camera lens, theres a fair amount of chest and arse close ups which are always welcome yet still a little 'yawn'.
I must admit though my fandom for Rika has slowly been fading over the years, I think I liked her more when she was younger and still in Morning Musume, ever since she was placed into V-u-den her increasingly 'whorey' image has put me off her.
Regardless, below are a few choice shots from the photobook ... feel free to
download it here
. and let me know what your thoughts are.