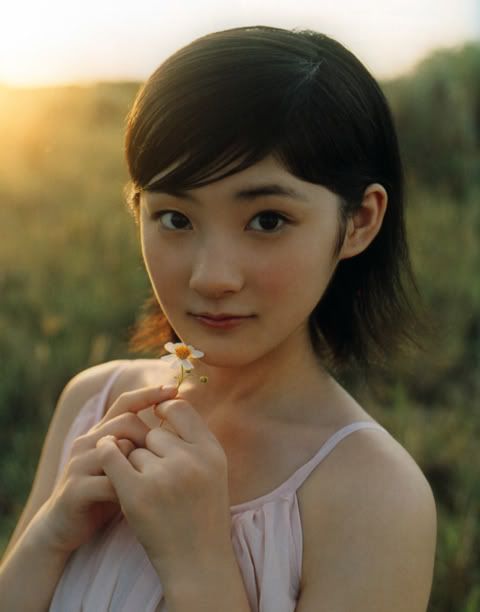 My first ever experience of Momoko (and Berryz Kobo) was with the promotional video for the eloquently named single 'Gag 100 kaibun Aishite Kudasai' the English translation basicly means 'Please Love Me as Much as 100 Jokes' ... yeah, sometimes I wish people would love me that much also, one can dream.
Now my first thoughts of Momoko were ... has she ingested massive amounts of helium? how can a girl sing so high without inverting her trachea?, as a vocalist she certainly is unique and stands out like crazy ... but thats the thing about Momoko ... you can't ignore her, and quite frankly why on earth would you want to?.
My 'fanboyism' for Momoko has been a slowly rolling snowball so to speak, most of my attention has always been directed towards the absolutely adorable
Tokunga chinami
(but my rant about her is for another time).
I dont think I could pin point the moment when I began to appreciate Momoko, it was a slow affair then one day it was like
POW!!
... I was totally infatuated by her, I now find her high powered genki voice extremely addictive, she also seems to have so much energy and abides by the 'idol etiquette' flawlessy.
Her photobooks really show her quirky, genki and somewhat naive side, I'm quite happy to leaf through them frequently and be totally absorbed again and again by her momo-licous-ness.
Recent videos of her really capture my attention, her solo version for the'
Dschinghis Khan PV
' show how much energy she has towards the camera, and also captures her beautiful unique eyes.
Her hilarious acting from the
C-ute Magazine Vol.5
will make you lol hard ... Momoko's
pinky
is serious business yo!
I could go on and on and rant until the cows came home .. but I'll stop now and leave you with a link to her digital photobook that came out yesterday, along with a few choice preview shots.
Enjoy!!!
Momoko digital photobook