As the title suggests I will be talking about a variety of subjects today, luckily the subjects involve my recent purchases from the lovely (financially crippling) world of Hello! project, hooray!
At various times in the past weeks my door bell has been ringing, this either means that a person wants to sell me gas/electricity or theres a fat middle aged postman bearing glorious gifts for me, luckily its been the latter, there have been a few close scrapes when my dogs have almost grabbed the packages and atempted to eat them ... but I've managed to save them with my crazy ninja skills, not only have I saved the packages but I've also saved myself a drive to the glue factory with my dogs in tow.
First up are 2 photobooks of the absolutely beautiful captivating elegant hotpant wearing nosebleed inducing Yajima Maimi, from the start I've always admired Maimi, she has always come across as very mature and continues to lead C-ute into success.
Both of these photobooks are filled with page after page of absolute beauty, she wears a number of seifukus, yukatas and swimsuit bikini's throughout, I consider these photobooks an absolute necessity for anyone who thinks they can define beauty.
Next up is a C-ute photoset from the the 2008 wonderful hearts concert, all of the girls look brilliant in these outfits and as I write this I've decided to watch that concert later tonight, for those of you that have not seen C-ute perform 'Tokaikko Junjyou' at the wonderful hearts concert I strongly suggest you do so
now
.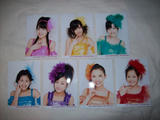 Tokunga Chinami is without a doubt my favorite Berry, I'll resist the urge to type a long rant (for now) and just post a selection of wonderful photos that now reside in my shrine...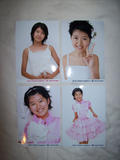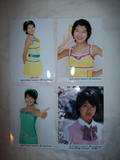 I've been trying to hunt down sets from the VERY BEAUTY photo shoots for quite a while, so when I saw this set for sale I struck it like the fist of an angry god.
I'm not overtly keen on the actual song itself because I prefare berry tracks to be high powered and genki, the outfits from the video really do stand out for me, two of the most prominent features are
Massa Sudo's hair
and
Risako sugaya's lace around her calves
*ahem*.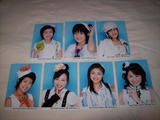 Recently Haromoni has perked up considerably and has actually been extemely enjoyable to watch, one of its charms is that the girls of Morning musume wear a different outfit each week, my good Friend Lolli was kind enough to send me a photo of Risa Nigaki in a slick dark suit, I'll have to repay the kind gesture when I meet her in London later in the year.
As I've said previously, Sakura Mankai is one of the best berryz Kobo concerts they have ever done, so I thought I would pick up some venue exclusive merchandise!
Apparently these were never for sale online or in the shops, so I'm quite happy to put them into my collection.
Massa Sudo is without a doubt a very unique and special girl, she is probably in joint second with Momoko as my second favorite berry, below are a great selection of photos that I managed to get my hands on ... some cost a fair bit ... but ever penny is worth it.
I find this photo adorable, its as if Massa is accepting a marriage proposal from Chinami, what makes this photo more interesting is that Massa and Chinami are the biggest tomboys in berryz Kobo, so when I saw this photo for sale I jumped at it.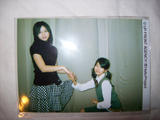 This photo is taken from the performance of 'Aiin' from the Wonderful hearts concert, everytime I look at this photo I instantly smile at Massa's confidence and awesomeness, can you look at this photo and not be inspired by her? I doubt it.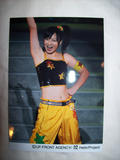 Massa wearing a suit is not to be taken lightly, I saw this photo a while ago and have been trying to find out where it came from, after about 2 months of searching I found out it came from
here
, I hope you enjoy the video as much as I did!.
And here is a random selection of Massa photos I picked up, all of them are quite lovely.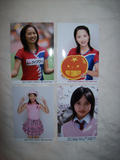 And last up is something quite special indeed, after seeing
Morning berryz
fine set of
balls
I knew that I had to get my hands upon them by any means, after she explained to me that she was unwilling to part with her fine set of balls I decided to go hunting on yahoo auctions, and luckily I managed to secure myself a Momoko Tsugunaga Baseball!.
It really is quite a unique and special piece of h!p merchandise, probably one of the most interesting things in my collection, maybe one day I'll have the balls to rival 'Morning berryz' ... but until that day I'll just sit here any play with my own.