The producers of Yorosen have just landed themselves in hot water by allowing a seemingly contraverisal statement slipping into the program claiming that Adolf Hitler is a 'great man'.
Multiple Japanese news sites have picked up on this story with claims that it offended various viewers ... the Yorosen staff then issued a statement;
On our TV show "YoroSEN" on 12/4, something improper was broadcasted.The theme was "World's great men DEN" and the subject of Adolf Hitler was brought up.
We were misinformated in history.
Some viewers were very unpleased, and to whom it may concern, we sincerely apologize.
From now on, the broadcasting content will be reviewed in the company.
First lets look at what actually happend on last weeks show before we unleash a lynch mob...
The teacher of last weeks 'Yorosen!' was Saki NakaJima (or as I call her Naki)
and the topic to be taught was 'the worlds greatest men'... here's a brief run down of events ...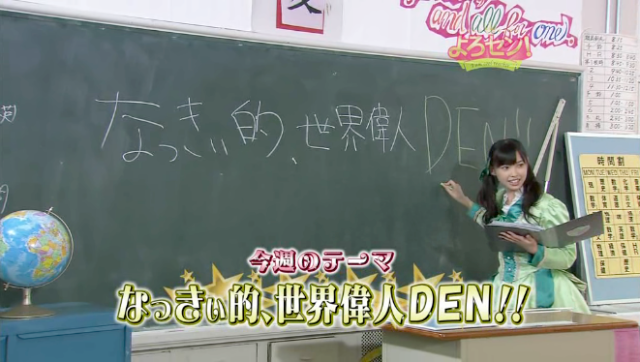 Naki writes on the board 'the worlds greatest men' to which Maimi comments on Naki's poor writing skills.
YES!
Naki then gives a brief description of Christopher Columbus or コロンブス as Naki puts it
Then follows an impression of him lol
Up next is the Emperor of France Napoleon Bonaparte, as you can see Naki's drawing skills leave alot to be desired.
She then says how he created buttons to go on sleeves to stop french troops wiping their noses on them, Naki treats us to a little song that goes
'if there's snot here, dry it off!'.
I'm now gonna skip ahead to the relevant part ...
''For today's Yorosen let's continue with our Nakky-ish great men!''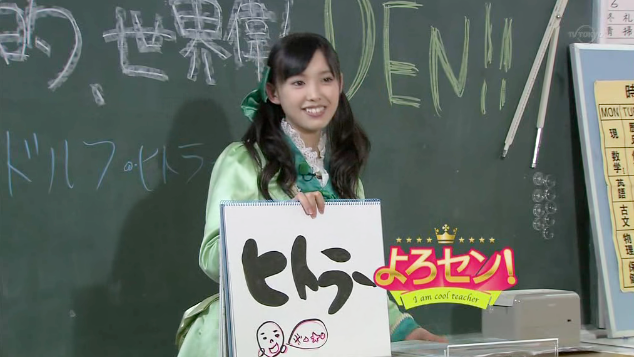 Naki shows the board to everyone ... Hitler! or as its written Hi-to-raa (ヒトラー)
Maimi then comments
'who was he again? I don't remember anything about him! but I think I've heard of him before'.
Naki then says
'I think when you see his face it will come back to you'.
Jaa~nnnn!!!
Maimai says it looks like Hitler is hemorrhaging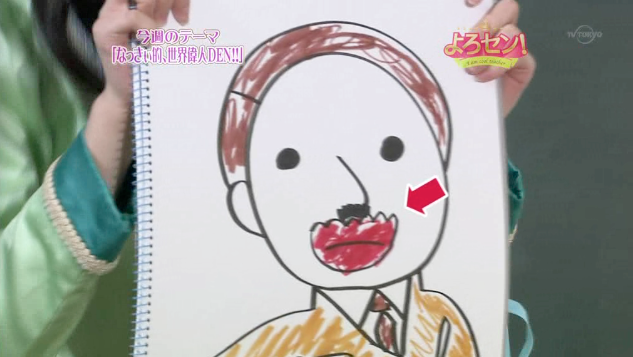 Another brilliant example of Naki's artistic brilliance.
Naki then proceeds to give a brief lecture of him

Anyway so this person was very good at delivering speeches and captured the hearts of his nation.
But he had some very deep secrets and one is that his speeches had a cleansing effect.
They were said to project a trembling rhythm.
And so the citizens were captivated by his speech.
Incredible huh?
Furthermore Hitler was said to have a certain complex.
Maichan do you know what it is!?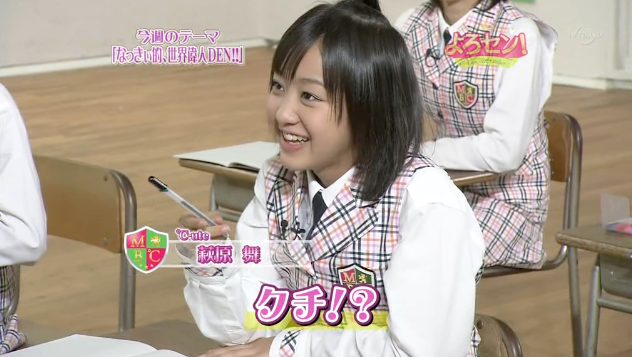 ''His mouth!?''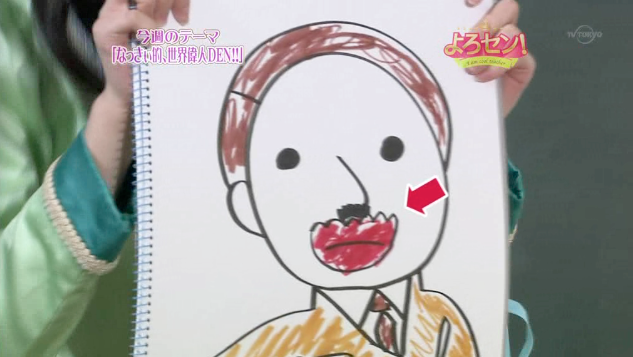 ''No!''



Actually it was that he felt he was too short.




But in regards to this issue , Many of Hitlers people didnt think so.




And tried to convince him otherwise by constantly telling him, ''That isn't true''.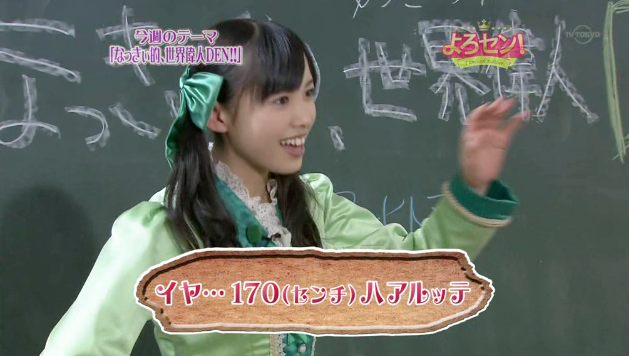 Naki then decides to do an impression of Hitler which is (thankfully) her saying
''Well I've got 170cm!''
I find this story interesting for a few reasons, obviously the most prominent being the omittance of Hitlers record involving genocide, the show does touch upon a small part of Hitlers history by saying he was 'leader of Germany, he published anti-semitic works and was defeated in world war 2'.
I understand that the show is light hearted entertainment so I dont expect a meticulous account of the
third reich
or
final solution
but I do think the producers were a little short sighted when dealing with one of the most contraversial figures of the 20th century.
Were these facts left out because its an entertainment show? or were they left out due to ignorance? I find it very hard to beleive it was the latter.
I was going to expand on this and talk about the Japanese schools curriculum involving the history of world war 2 ... but it's probably a little out my depth and I'm not going to single Japan out in regards to numerous atrocities commited by all sides.
So to wrap up ... Naki was awesome on Yorosen, and her drawings were kinda cute (even Hitoraa).
Thank god she didn't do a
Sieg Heil
while doing an impression of him though.
Credit to
Nouciel
and
sferris
for the translations.