According to AKB48's
official blog
any person who collects 44 special edition posters that come with their new cd will be selected to attend a 'special gig'.
If it didnt sound bad already the posters that come with the cd are totally random, so even if you bought 44 of the singles which would cost about £380 ($752) ... you still dont have much chance of 'winning'.
With the nature of Wotas I'm sure they will buy this cd in the masses, personally I see this as a rather bizzare and cruel market research experiment on the obsessiveness of idol merchandise.
I do spend
alot
of money on hello! project, but I would never consider buying 44 copies of the same single ... unless the prize was a cruise holiday around the world with berryz Kobo ... but thats different story.
I have not been a fan of AKB48 for long, but I think I have a good grasp of what they are about, and what strikes me is that they seem to be promoted as a fairly sexualized idol unit ... I'm not saying its a bad thing but there seems to be a mixed age range within the units which would suggest its aiming to reach a wider demographic ... I guess my main concern is about the younger girls singing about
underage prostitution
.
But enough rant already, recently I got my hands on an AKB48 photobook which is called 'Jump & Cry' ... and supprisingly enough its filled with pictures of the girls 'jumping' and 'crying'.
Heres some examples to show you how odd it is ...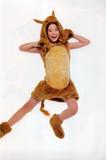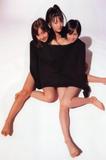 *UPDATE*
DefSTAR Records recently announced a promotional campaign for "Sakura no Hanabiratachi 2008," the new single from idol unit AKB48. Those buying the single received a poster, randomly selected from 44 different ones, each featuring a member of the group. Any fan who collected all 44 posters would be able to attend a special AKB48 concert.

The campaign attracted a lot of criticism from fans, with some likening the campaign to a scam. On Thursday, DefSTAR updated its website to announce that the special concert has been canceled, due to concerns that the campaign may actually be in violation of laws regarding fair business practices.

The label apologized to fans and stated that they will be accepting returns, starting on Monday.
Link